Is It Time To
ACCELERATE YOUR BRAND?
We Work With Service-Based Companies That Want To Market Their Business But Don't Have The Time, Expertise Or Staff To Do It Themselves.
We Become Your Marketing Team!
Most business owners find marketing a challenge because they don't have the time, experience, or staff to do it themselves. At Brand Accelerator we do it for you. We're a one-stop-shop for all of your marketing needs.
We'll strengthen your brand, create your marketing plan, and handle all your daily marketing – everything from social media, website updates, and email marketing, to blog writing, SEO, and more. When we handle your marketing, you can get back to running your business and doing what you do best.
In fact, in most companies, the owner is outsourcing most of the marketing functions to several different vendors which takes up a lot of time and money.
At Brand Accelerator you get an entire marketing team. We help create your brand, develop your marketing plan, and execute your daily marketing activities. This means you deal with one person who coordinates and oversees all your marketing. No more dealing with lots of freelancers and media reps. This frees you up so you can work on other aspects of your business.
Best of all, we provide you with the marketing services you need, when you need them.
DOWNLOAD OUR FREE TIPS FOR MARKETING IN UNCERTAIN TIMES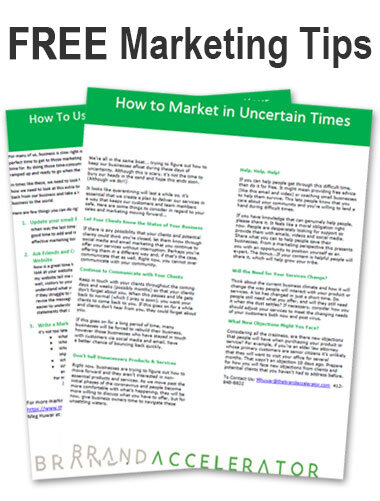 Brand Accelerator has created two one sheets with tips and strategies for how to handle your marketing during the current pandemic.  Here's what you'll learn ….
What customers need to hear from you right now
How to change your messaging to meet your customers current needs
Why it's important to share your expertise at this time
How to keep marketing when things are uncertain
Free and effective ways to market your business
Lots of tips for how to use your downtime to improve your marketing
Our clients have successful businesses, but know that in order to get to the next level they need a professional and consistent marketing program. Our super power is working with service based businesses who want to reach consumers. We especially love working with law firms!!
Why Outsource Your Marketing
Saves You Money

Half the price of a full-time marketing person.

Saves You Time

You're a talented professional who makes money sharing your skills with the world. You aren't generating revenue if you're writing social media posts and trying to figure out how to build a website. Leave that to us so you can get back to running your business.

One Point of Contact

No more dealing with lots of freelancers! We provide you with one point of contact who will provide you with marketing strategy and coordinate all your marketing.

You Get an Entire Team

Behind the scenes our graphic designer, social media team, content writer, and others are working to make sure you and your business are presented in a professional manner

Experience

Every member of our team is a marketing professional with years of experience. We bring our collective experience to every client to build a marketing strategy designed to grow your business.
Marketing Strategy
Brand Creation
Research
SEO
Social Media Management
Media Planning & Buying
Email Marketing
Web Development
Public Relations
Video Production
Content Writing
Webinars
Graphic Design